Carbon-conscious
Reduces plastic waste
100% 
 plastic-free

Vegan
Ethy accredited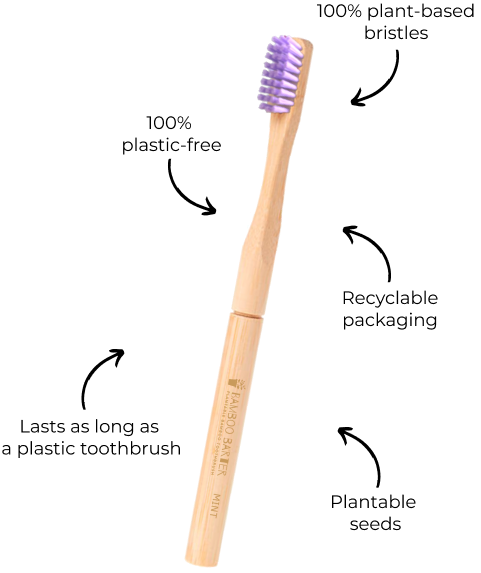 Plastic-Free Starts In Your Bathroom
Our well-being shouldn't come at the cost of our planet. So, we designed a 100% Plastic-Free toothbrush to keep your teeth clean and our planet green, with:
- 100% plant-based bristles made from castor oil
- 100% compostable bamboo handle
- 100% recyclable kraft paper packaging
Shop our 100% plastic-free bamboo toothbrush range

Sustainability beyond the plastic toothbrush
Our toothbrushes contain Basil and Mint seeds to encourage you to grow your own fresh herbs and swap them for plastic-packaged supermarket bought herbs. You made a start towards plastic-free living in the bathroom, and we want you to continue this fight against plastic in your daily life!
What our customers are saying
"I was really pleased with my starter pack. The idea behind the project is so original. Everything came plastic-free and I am already waiting for my mint and basil to grow 😊!" Nina
- Nina

Free
Returns

Free Shipping
in the UK
Secure
payments
Customer
service
Save with multipacks
Buying multipacks saves you money and keeps emissions released by shipping multiple items down.
It also means you'll have a toothbrush when your bristles start to wear!